There is so much to experience in Banderas Bay it is a little overwhelming!! The following is a list that will hopefully get you headed in the right direction and once you have decided on the type of activity you might enjoy then we can get you lined up with the best service providers in the area.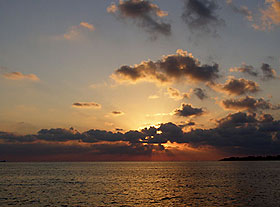 Fishing... (Inshore and Offshore)...Whether you are looking for Tuna, Marlin, Sailfish, Dorado, Wahoo, Roosterfish, Robalo, or Huachinango the waters inside and outside Banderas Bay are famous for these species. We use the best guides that get you results!!
Surfing... (Expeditions and Lessons)...If you know where to go you can get waves all times of the year. Usually you don't need to look any further than out in front of the house. If you want to learn, we have the best instructors in Mexico including this year's Mexican National Longboard champion!
Golf...Flamingos, Marina Golf, Vista Vallarta, and the new Litibu Course (opening soon) are all excellent courses in the vicinity.
Tennis Lessons... We have an excellent instructor who has access to local courts.
Massage...
Yoga... For group or private instruction.
Snorkeling... Mariettas Island and Coastal trips. Transportation and equipment provided.
Scuba Expeditions and Lessons... Again, transportation and equipment provided.
Blue Water Hunting...Not for the faint of heart, this is big game hunting where you can become the hunted!!
Sightseeing... San Sebastian, Alta Vista Petroglyphs, Yelapa... Great day trips to local villages off the beaten path.
Sailing... Cocktail cruises out of Vallarta.
Dining... Every possible culinary delight awaits you, not only in Puerto Vallarta, but in the small towns within 15 minutes of the house…you will be pleasantly surprised!!
Dancing... Want to learn to Salsa? There are some great Cuban dance clubs that welcome beginners!
Chaufeur/Taxi Service… Want to do a night on the town without the hassle of driving? Hire a driver for the night and relax!
Chef Service... We include this service at Casa Puesta del Sol for two meals per day.
We have over 15 years experience providing service to clients and guests in this area….please let us know any special requests! We are here to serve!
Saludos,
Casa Puesta del Sol